My brain likes to lie to me. My brain tries to trick me all the time.
I try to keep it under control, but sometimes my mind gets away from me. I'm sure it happens to everyone once in a while. For me, it's not once in a while, really. It's often. Really often.
If I wake up in the middle of the night, nine times out of ten I can't get back to sleep because my brain starts to buzz with all sorts of unwanted thoughts. I get repetitive, intrusive thoughts about all sorts of things I don't really want to think about that just swirl around my head, looking for a way out.
He hates me. He hates me, he hates me, he hates me. I fucked up and now he'll hate me forever. He thinks that I'm a terrible person. He thinks that I did it to hurt him. Maybe he thinks that I hate him. I have to fix it. How do I fix it? How do I fix it?
I'm fat. I'm fat, I'm ugly, I'll never get a partner again. I'll never be able to lose weight, and I'll die an early death of my own making.
I'll never succeed. I flunked out of school, I live with my dad, I'll never get my life back. I'll never, ever be well again. I'm going to be stuck in this terrible cycle of just-barely-okay to suddenly-terrible for the rest of my life. I'll never have a family, never have kids, I'll never have a career.
And on, and on they go. Anything, and everything, my brain can latch onto just to torment me, it will. It will crush me with proof to prove that I'm a terrible, failing, good-for-nothing person.
When the time is just right, a thought (or three) will be brought to the forefront of my mind. Suddenly, it's all that I can focus on.
Without any proof, my broken brain rattles off all of the things about my life that I'm ashamed of or upset with. It has so much practice that I'm sure it takes near no effort to get me worked up. All worked up to the point that I don't leave my house, don't shower, refuse to even talk to anyone.
So, when I can see through the thoughts, even for a second, I try my best to shut them down. (I so rarely succeed — but I'm still trying, and it's getting easier.) The first CBT/DBT (Cognitive Behavioural Therapy / Dialectical Behaviour Therapy) technique that my therapist taught me was 'finding the evidence,' or the 'Wise Mind.'
Finding the Evidence and the Wise Mind
It's a straightforward technique but rarely is it ever easy — which makes it all the more frustrating.
The technique works by introducing rational thought when you're overwhelmed by emotional thought. It engages what's referred to as the 'wise mind' — a middle ground where rationality and emotion work together.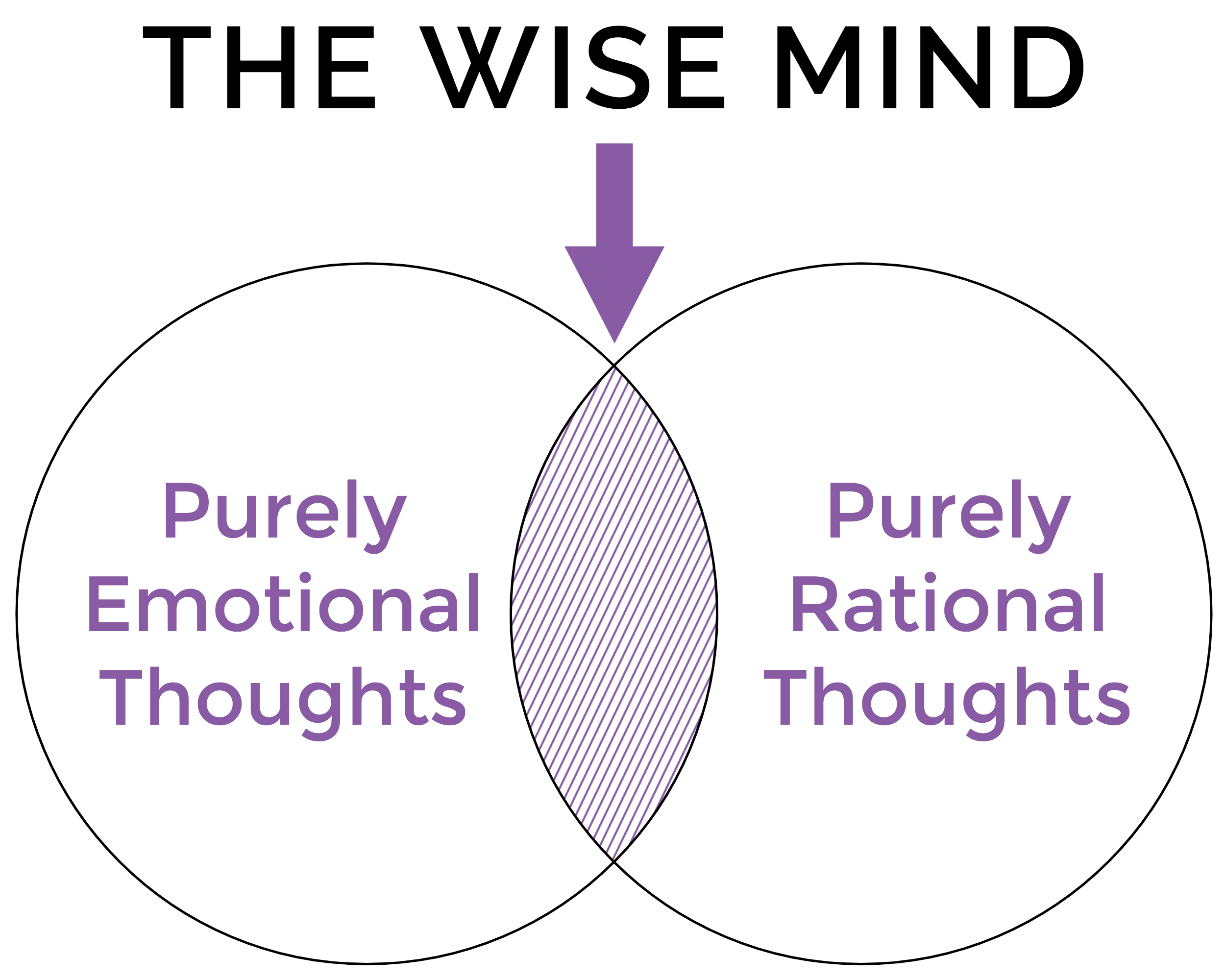 By listing off the (rational) evidence that you have, you can drag your emotional mind into your 'wise mind.' It's important with this technique to use objective evidence and not the subjective evidence that your emotional brain is trying to convince you of.
To help explain, I'll tell you a story from back when I was working. It was my first grown-up, office job. The politics and childishness were already making my head spin, but on top of that, every time someone would go into my boss' office or she would close the door, I was convinced that they were talking about me.
When I told my therapist about how I was feeling, she told me about the concept of the wise mind and finding the evidence. She suggested that the next time I was feeling anxious about it, I make a list of all the reasons that they could be meeting that had absolutely nothing to do with me. I did it, and damn, did that list ever grow. I kept that post-it note the entire time that I worked there and referred to it when I was anxious, though over time, my anxiety was seriously lessened.
See? Simple concept, but difficult to implement. (And difficult to believe once you do.)
The Neurobiology of It All
This idea is reflected in our own neurobiology. Most notably, in the Triune Brain Theory, developed by physician and neuroscientist Paul D. MacLean in the mid-twentieth century. The basics of the theory are outlined in the 60-second video below.
As you might already be realizing, this theory is very powerful in its ability to explain some of our actions and reactions (especially when dealing with mental illness). An important part of the theory is that each part of the brain can be 'overruled' by an older part of the brain. So, the limbic (mammalian) system can take over for the frontal (executive) lobes.
It is suggested that when the limbic system is on high alert, like in a state of high anxiety or threat, there is significantly less activity in the frontal lobes. So, if we think of the limbic system as the 'emotional mind' and the frontal lobes as the 'rational mind,' it's easy to see why it is so easy to default to problematic thoughts or behaviours in times of distress.
If the limbic system takes over when it senses high emotion, and it handles our fight, flight, or freeze response, not our cognition, of course it's so difficult to fight against our impulses when we're in distress. That part of our brain is in control.
Bringing it back to the Wise Mind concept, by finding the evidence and introducing rational thought, we are reengaging our frontal lobes and taking some of our brain power away from our instinctual fight-flight-freeze response. Trust me, when I re-engage my rational mind and introduce some more rational thought, I can feel my body start to calm down.
Even though I have all this information, and am very pro-Wise Mind, I still struggle immensely to implement it. It's hard shit this disordered-brain stuff.

Share This Post